Energy Performance Certificates
Energy Performance Certificates or  EPC  is a mandatory requirement whenever a property is sold or let. This is true regardless of whether the property is a new or existing property or whether it is commercial or residential.
Different assessments are required depending on whether the property is commercial or residential and a further, more involved assessment is required for newly built or newly converted premises.
Graham Kinnear Property Consultant are expert in the the field of Energy Performance Certificates having undertaken over 10,000 surveys on every property type from studio flats to farmhouses, shops, offices, trade counters and even a bottling plant.
The EPC records the energy efficiency of a property, providing a rating of the energy efficiency and carbon emissions of a building on a scale from A to G, where A is very efficient and G is very inefficient.
The report can only be undertaken by an approved accredited surveyor. We hold accreditations with Quidos, Elmhurst, ECMK and Stroma and can provide your reports via our Accreditation accounts or through your own Corporate Accounts.
EPCs are produced using standard methods about energy usage so that the energy efficiency of one building can easily be compared with another building of the same type. This allows prospective buyers, tenants, owners, and occupiers to see and compare information on the energy efficiency and carbon emissions from a building, so they can consider energy efficiency and fuel costs as part of their investment decision.
For dwellings, two ratings are shown, the current rating and the potential rating. The actual energy-efficiency rating is a measure of a dwelling's overall efficiency. The higher the rating, the more energy-efficient the dwelling is, the lower the associated carbon emissions are and the lower fuel bills are likely to be.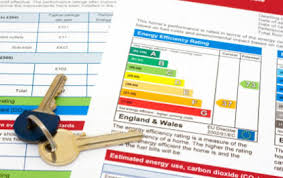 The energy efficiency rating is based on the performance of the building itself and its services such as heating and lighting. The certificate also lists the potential rating indicating what can be achieved if the recommendations were implemented.
The EPC is generally valid for a period of 10 years. You can check whether your property has a valid EPC and when any current certificate expires by clicking on the following links:
Domestic EPC Register          Commercial EPC Register
Following recent legislation, in the event that you are wishing to rent out a property, you should be aware that you will require your EPC score to be a Band E or higher.  Further details of this requirement are discussed in the video below or alternatively you can read some of our blog posts
We accept instructions from private individuals, estate/letting agents, property companies, auction houses, solicitors and a number of the nationwide panel firms. Discounts are offered for multiple or regular instructions.
Residential EPCs  £50 plus VAT,
Commercial EPCs start at £180 plus VAT,
New Build (SAP) Assessments £175 plus VAT
Back